MAP provides transport for individuals affected by alcohol and other drugs and at risk of harm to themselves or others from inner Adelaide City to places of safety. Any person, Aboriginal and Non-Aboriginal, can access the Mobile Assistance Patrol services. 
MAP Program Aims
To reduce harm arising from the use of alcohol and other substances.
To improve the safety and well-being of individuals who have been affected by the misuse of alcohol and other substances.
Maximise the well-being of individuals affected by drugs and alcohol by taking them to places of safety including sobering up services and other key services in the inner city.
 Hours of Operation (Trial period)
Monday – Sunday
6.00pm to 2.00am. Monday to Sunday
PLEASE NOTE:
The MAP service have 2 buses working these hours on Monday to Saturday, and one bus on Sundays.
Your feedback important to us please email reception *at* asg.org.au
Phone: 0411 474 368
between the hours of 6.00pm and 2.00am
The MAP program is funded by:
 SA Health (DASSA)
Adelaide City Council
Client Definition
 While the Mobile Assistance Patrol service has received funding in the past as a result of the interim report of the Royal Commission into Aboriginal Deaths in Custody (1988) service provision is not exclusive to Aboriginal people.
Reflecting the organisational philosophy of the Aboriginal Sobriety Group Indigenous Corporation (ASG) and according to the current Service Agreement, any person, Aboriginal and Non-Aboriginal, can access the Mobile Assistance Patrol services
Client Target Groups:
 People who are intoxicated in unsafe public places within the inner city area of Adelaide who are:
experiencing harm, or
who are at a high risk of harm due the influence of drugs or alcohol, and
are not in a fit state to safely return of their own accord to their home or to a safe place.
The target group is inclusive to:
Adults
Aboriginal and non-Aboriginal
Aboriginal people who are visitors to the Adelaide inner city and parklands.
Priority
South Australian Police sites within the CBD
The following services will be considered for priority pick-up locations
(subject to availability of our MAP service)
East end of South Terrace located on the corner of Hutt Street & South Terrace.
Non metro Police sites
Currie street end of Leigh street
Whitmore Square, St Luke Side referred by Salvo's Sobering Unit
(NOTE: Buses will not be picking up at the front of the Sobering Up Centre ).
Royal Adelaide Hospital
Women's and Children's Hospital
Other similar community services particularly located in inner Adelaide City.
PLEASE NOTE
No time limit of pick up can be guaranteed by Mobile Assistance Patrol
Geographical Coverage
The main focus is in inner Adelaide and the surrounding parkland areas.
Transportation from inner Adelaide to the broader Metropolitan areas limited to:
–  Smithfield in the Northern Suburbs
–  Port Noarlunga in the southern suburbs
–  Mount Barker in the Adelaide Hills
Clients are not to be transported from metropolitan Adelaide into the inner city of Adelaide at any time.
Service Limitation
MAP is not a replacement for calling a Taxi
House to house transportation is not provided
Transportation from Adelaide metropolitan areas to the inner Adelaide city area is not provided.
.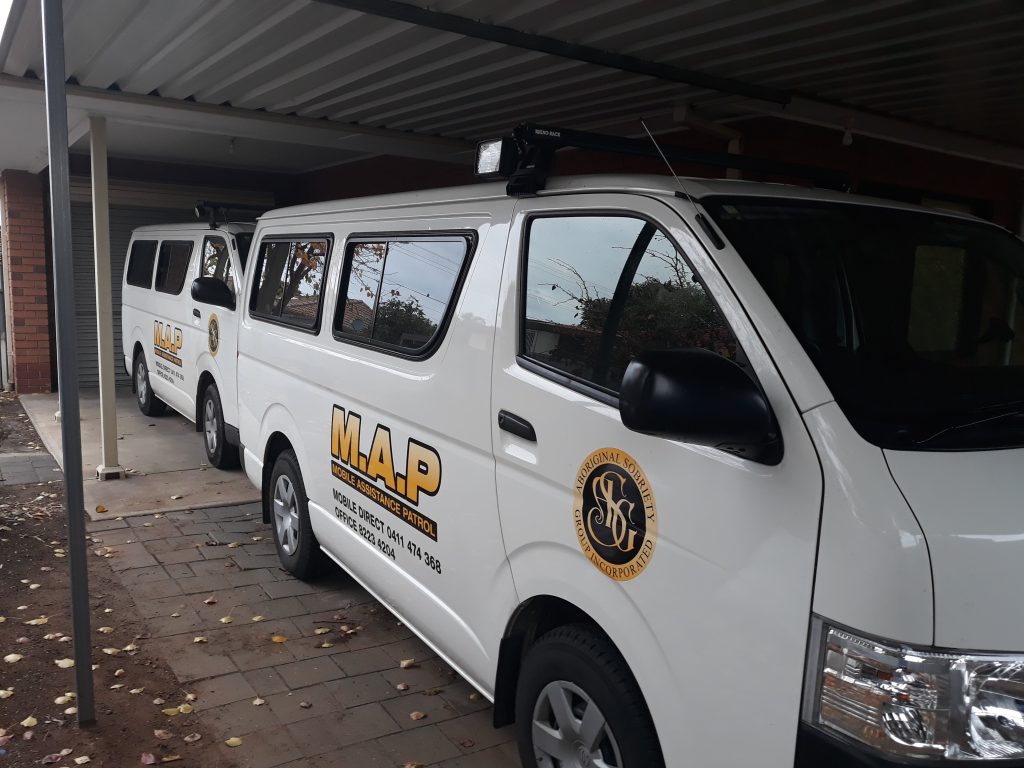 .