Lakalinjeri Tumbetin Waal (LTW) is a non-medical 'dry' rehabilitation centre located on a farm at Monarto.  Our vision is to enhance our client's opportunity to transition back into the community more successfully offering new directions and pathways of support.
Our 12 – 24 week residential program for each individual client includes a comprehensive case plan, with regular case conferences and assistance from external agencies. . We also ensure that we provide our clients with support once they exit the rehabilitation centre. By providing transitional housing and programs such as career advice counselling, training and assistance in obtaining ongoing independent accommodation for clients who have graduated but do not want to return to their old environment, we can ensure we are providing a supported pathway as they endeavour to make positive change.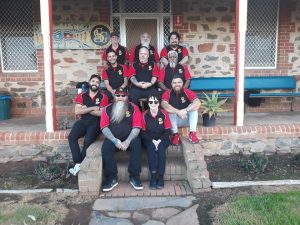 Programs for Clients at LTW
Relationships Australia – Providing drug and alcohol, grief and gambling counselling once a week and financial counselling fortnightly to our clients on site at LTW.
Moorundi Medical Clinic – Providing a service of a GP to our clients once a week at LTW.
Psychologist – Providing a service to our clients at LTW on a weekly basis.
Tafe Aboriginal Access – Providing a woodwork course at LTW 2 days a week where clients construct a variety of items that they build with the woodwork lecture.
Murray Mallee Mental Health – Mental health checks.
Narcotics Anonymous – Programs with clients in a group environment.
Aboriginal Family Support Service – Fortnightly Gambling and Social & Emotional Wellbeing.
Moorundi Aboriginal Community Controlled Health Service – Health assessments.
Relapse Prevention – Learn the skills to live a life of happiness, safety and sobriety.
Smart Recovery – Education and practical skills for clients.
Mindfulness –  A range of techniques for clients.
Spiritual Mens Group – Provide cultural support and encouragement.
Aboriginal Family Support Services – Seasons of Healing Program.
Dietician – Promote healthy living.